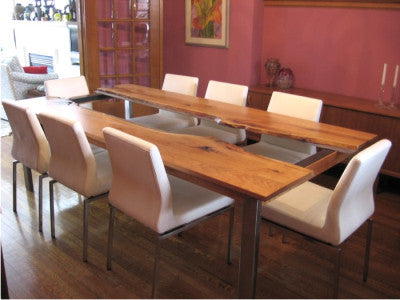 Dining Table
This dining table is a real show stopper and displays the premium wood to it's best advantage. We have made this table in many different configurations, from a small 24" square end table, to a desk size all the way up to a generous eight foot table for a large family. 
This is essentially a solid steel table with a wooden jacket.  We usually use thick steel rectangular steel tube for the four legs, welded to heavy steel angle to create a structure that will not sage or twist.  This forms the perfect support to secure the solid wood onto. A tempered glass sheet completes the top.   We have an impressive inventory of  our own sawn live-edge lumber to use for this design, in cherry, walnut, maple, ash and more. Customers often enjoy coming to the farm to select the actual pieces that will be used in their table. 
We sometimes have one of these tables in stock at our gallery, Styll but are also happy to quote a custom size for you. Pricing varies, depending on the size of the table, but generally starts at around $2000.  If you are not in our area, we are happy to work via email or video messenging to finalize all details and shipping can be arranged.