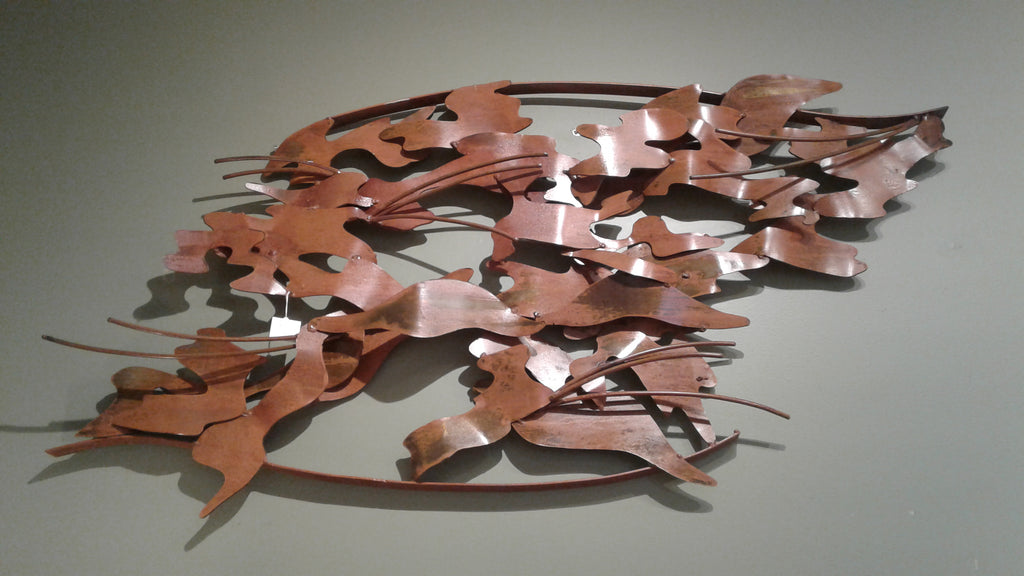 Birds of the Air
Birds of the Air, or is it Fish of the Sea?  Picture this piece on your fence or on the wall beside your front door.  We make this abstract wall sculpture out of many individual pieces (sometimes over 50) that are hand cut and curved before being arranged just so.  A curved strip of steel at top and bottom visually ground the design and create a solid frame to weld everything to.  A couple of mounting brackets welded to the back make installation straight-forward. Once completed we allow the sculpture to develop a rust patina....which means no maintenance needed!
As each one of these wall sculptures are individually created, the general look of the piece will be as pictured, but exact details will vary.   
Did you want to use this indoors? We recommend sealing it with a clear lacquer designed for metal such as Rustoleum or Tremclad, available at most hardware and building stores.  This won't add a bright shine, but will reduce scaling.
If you want you want us to seal it, select that option here.
Approx. size 50" x 26".  We can also make a custom size to suit your space - just ask!